SKU:104-010-00
Regular price
Sale price
$11.00 USD
Unit price
per
Sale
Sold out
A nifty suede and nubuck leather cleaner, complete with four tools
Thick rubber bristles to erase scuffs on the welt and midsole
Nylon and brass bristles for cleaning and reviving suede and nubuck naps
Rounded rubber protrusions dig dirt from corners and crevices
Dimensions: 6 in x 1.5 in | Made in Germany
Compared to their smooth leather counterparts, suede and nubuck shoes are very prone to looking filthy. The reason? The fuzzy nap on the surface of such materials is porous and tends to trap dust, dirt, and debris deep in the material.
The solution? Grab the FootFitter Suede and Nubuck Leather 4-Way Shoe Cleaner Brush.
This multifaceted shoe cleaning tool was conceived and developed specifically to make cleaning suede and nubuck shoes much quicker and easier:
Silicone bristles: Removes heavier stains, scuff marks from a shoe's upper nap, welt, and midsole
Nylon-brass combo bristles: Gets rid of lighter stains and dirt buildup; revives nap
Arched half-circle: Reaches into the welt area to remove contaminants
Thin rubber blade: Dislodges foreign particles in deep crevices and grooves
Share
View full details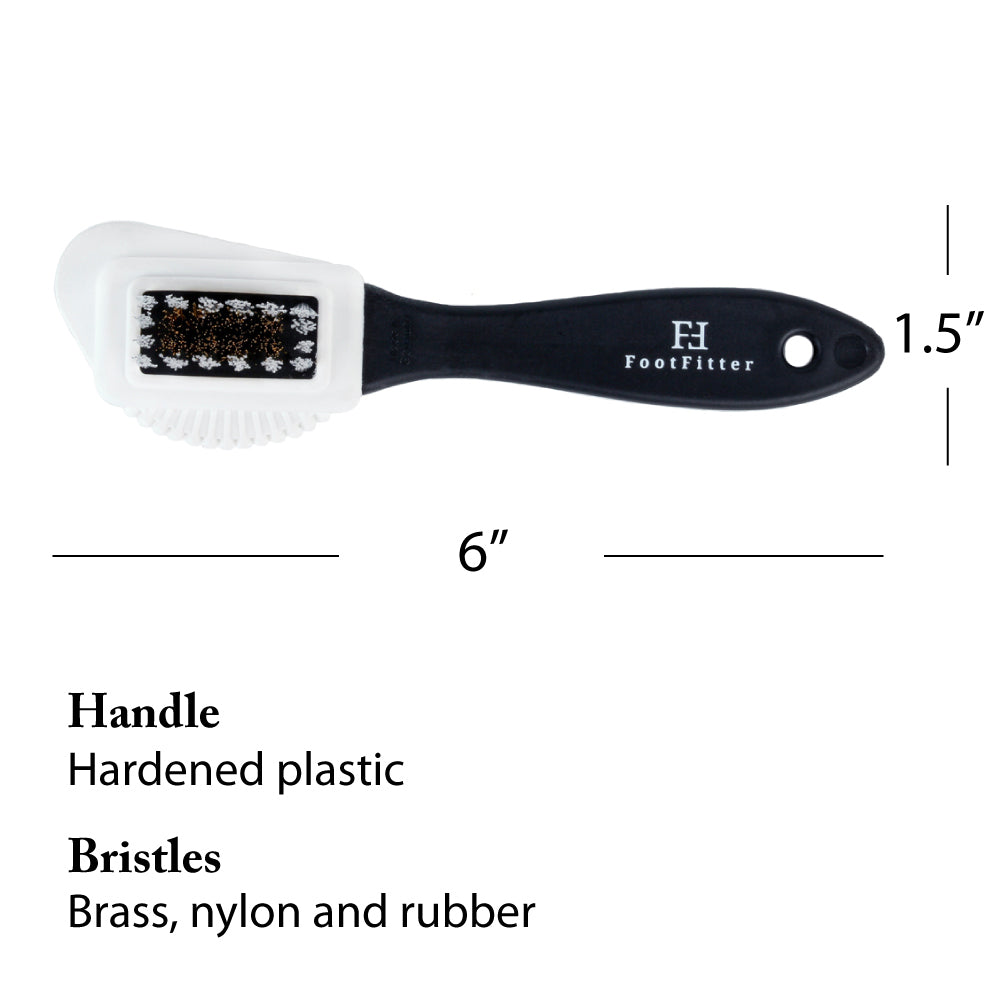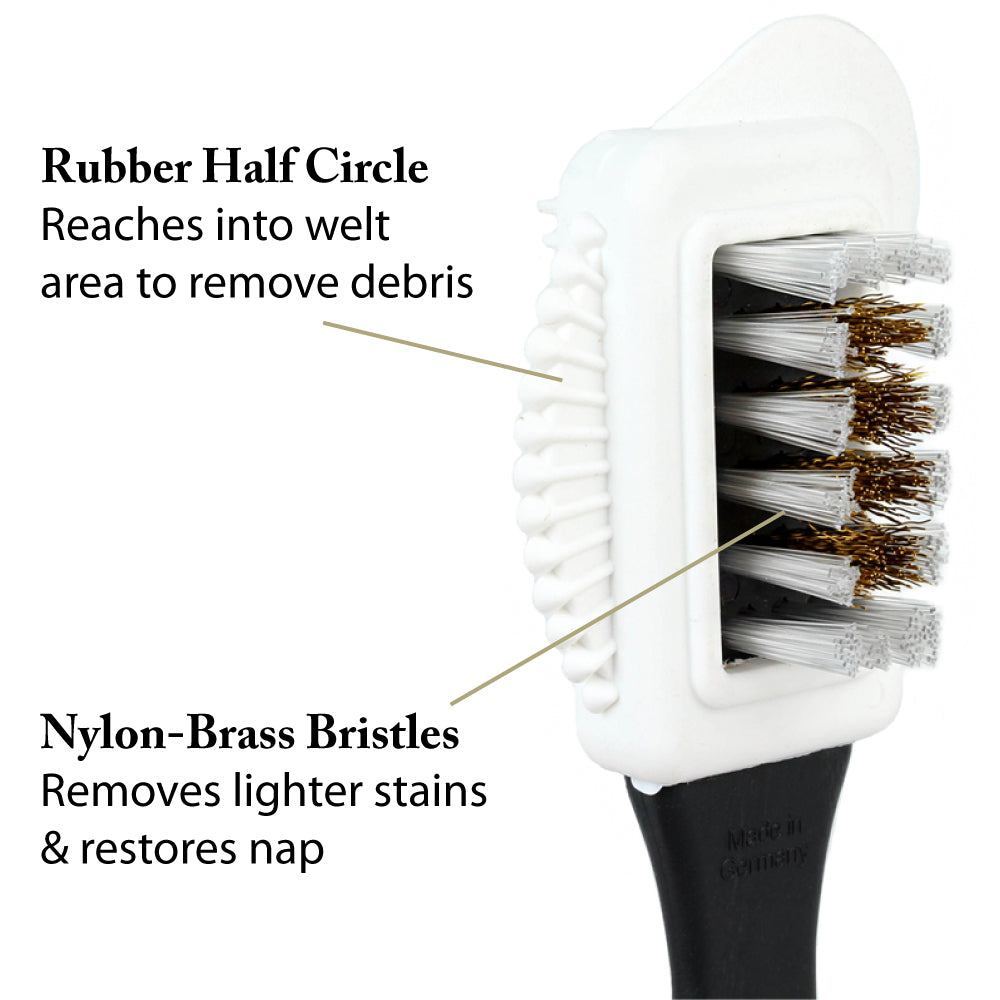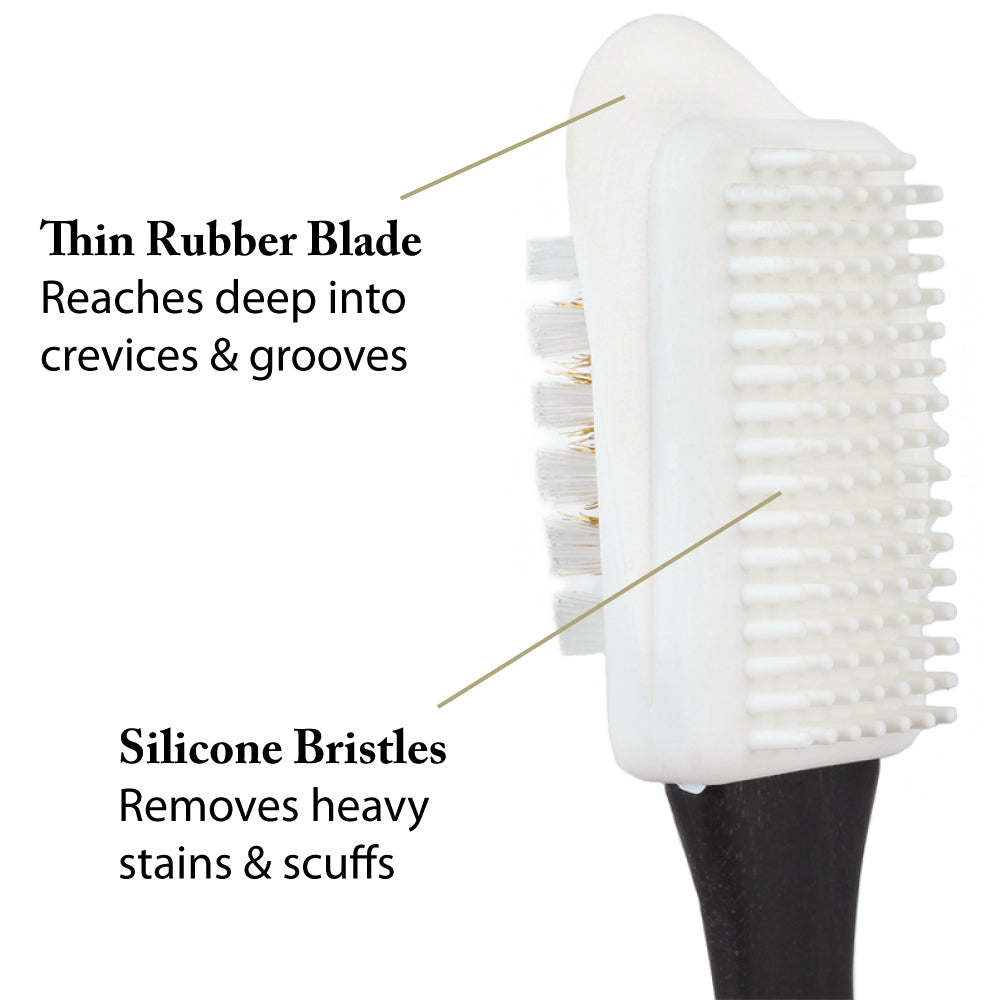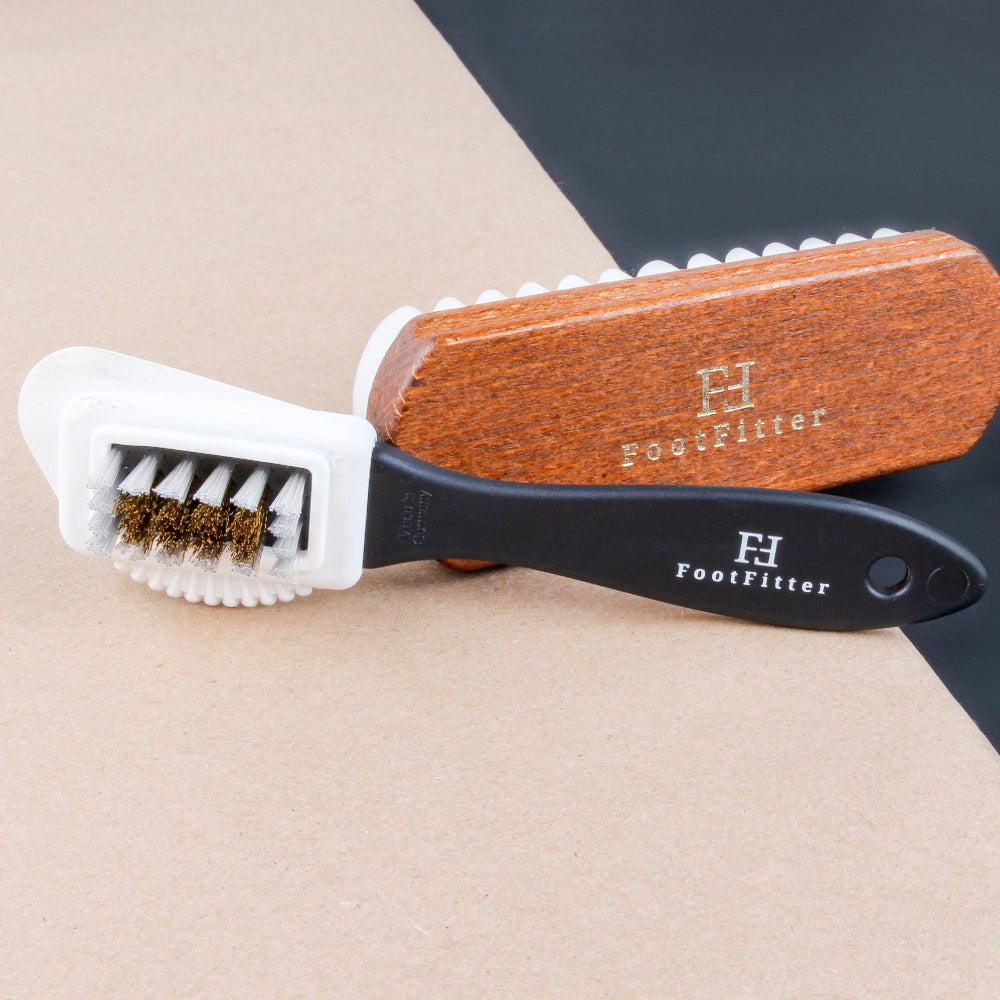 Did a good job of cleaning black suede shoes and boots
Not sure how the leather care aspect of this works, no instructions. But the suade brush is perfectly sized for your shoes.
Seems particularly suited for suede jackets and more delicate suede items.
I ordered this brush because I could not find the brass-bristle suede brush I had used for decades. I found that brush after this brush was delivered. This brush is good, but I think my old brush on which ALL the bristles are brass is more effective on suede shoes than this brush, on which only part of the brush appears to be brass.
Great for quick clean
Very good at clearing mud from the crevices underneath. The more recent the better, make sure to dampen then shoe first for better results.
Does the job as intended
This product is a good value. However, it was a lot smaller than I expected once I opened the package. I have used it on one pair of suede shoes that desperately needed a cleaning and the results were pretty good. I wish the product was a little larger so I didn't have to use so much elbow grease to brush it.
Pros-Easy to use
Good value
Cleans suede nicely
Cons-Smaller than expected
Quite pleased,,
Works perfectly on little scuffs. Although on bigger stains you will need to add a bit of shoe cleaner or good old soap and warm water.